KINGDOMS OF VALORIA
SITE CREDITS
artyom rurik
— STATUS:

Offline


— JOINED: 08-02-2020
— LAST SEEN: 10-23-2020, 11:51 PM
— LOCAL TIME: 10-25-2020 at 10:06 AM
— PVP:
— POINTS: 178
— POSTS: 69
— THREADS: 5
— ATTACHED ACCOUNTS:
BASICS
EXPERIENCE

Lioness





— NAME: artyom rurik
— AGE: 4 years
— SEX: ♀
— BUILD: Medium
— EYE COLOR: Silver
— PELT COLOR: Light
— MARKINGS: 1

— BORN: March Y2
— ALIGNMENT: Unknown
— GENDER: non-binary
— SEXUALITY: asexual
— MATE:
— HEIGHT: 3'8
— LENGTH: 5'2
— WEIGHT: 359

— MASTER TRADE: Cleric ()
— SUB TRADE: Huntsman ()

Master Level 1 Cleric




Sub Master Level 0 Huntsman




Master Trade Experience

(7/31/20)
+5 Hold a ritual for good luck (Throttle me, throttle you)
+20 Join Valoria at 3 years of age

Sub Trade Experience

POINTS LOG

Legacy Points: 167

(7/30/20)
+2 Explore a new territory (Woodlands)
+2 Explore a new territory (Stone circle)
+3 Reach 25 IC posts
+5 Complete a thread with a new character (Sassa)
+5 Complete a task related thread (cleric - hold a ritual for good luck)
+7 Complete a thread 15 posts long (Throttle you, throttle me)
+85 Complete a thread with a new character x17 (Manes, Dravite, Ifrit, Gemma, Ambrosine, Aeneas, Roan, Caligula, Dahila, Sarthak, Drascua, Bronx, Leviticus, Vermier, Naeina, Jyzara, Georgia)
APPEARANCE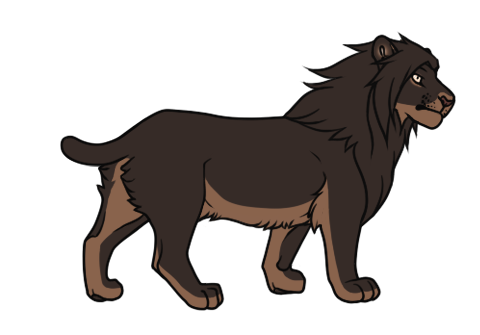 artyom's pelt is dark, taking after their mother. built sturdy and true, they look more like a bear than a lion - standing at an average height, but maybe a bit more
round
than usual. their fur lightens to a caramel color along their muzzle, chest, and stomach. their mane, lackluster compared to their brothers but still evident enough, is the same shade as their main pelt, only helping to enforce their image of a big, fuzzy creature. from their father they've inherited clear, grey eyes and a strong, handsome face - and their scent remains reminiscent of a clear, evergreen forest, no matter how far from home they wander.
speaks common, russian, and danish.
speaks with a russian accent.
smells like pine trees and snow.
PERSONALITY

wild in their youth, wild in their twilight, and certainly wild in the time between. artyom wants and craves from this life: they want everything the spirits have promised them, and more. adventures, tall tales, battles, and everything in-between: a silly little girl's dreams have been lodged squarely into this bear's chest. a brilliant flame that will never flicker, artyom is stubborn as a bull and just as determined. still there's something soft about them, underneath all the bluster and fur. a child born and bred to endure, but who doesn't just want to survive - they want to live.
HISTORY
FAMILY
Miscellaneous
ooc pronouns: they/them
ic pronouns: he/she/they
Powered By MyBB, © 2002-2020 MyBB Group.